WEALTH MANAGEMENT FOR INDIVIDUALS AND FAMILIES
Together, let's develop a sound game plan for your financial life.
We offer objective, fee-only financial planning to help you see the big picture, set long and short-term goals, and map your financial future. We believe that planning helps you gain peace of mind, make better informed financial decisions, and stay on track to achieve financial well-being.
INDEPENDENT AND OBJECTIVE
We are fee-only financial planners, which means we work only for you. We are not paid by a third party, and we do not sell products or accept commission income. We are your advocate and trusted advisor.
COMPREHENSIVE AND COLLABORATIVE
Your needs and objectives are unique. We develop plans tailored to your specific goals and concerns. We collaborate with your other specialty advisors (attorneys, CPAs, insurance professionals) to create and implement your strategic wealth plan. Let us help you with:
Cash Flow Management
Savings Strategies
Investment Strategies and Implementation
Education Planning
Pre- and Post-Retirement Planning
Survivorship and Disability Planning
Multi-Generational Legacy and Estate Planning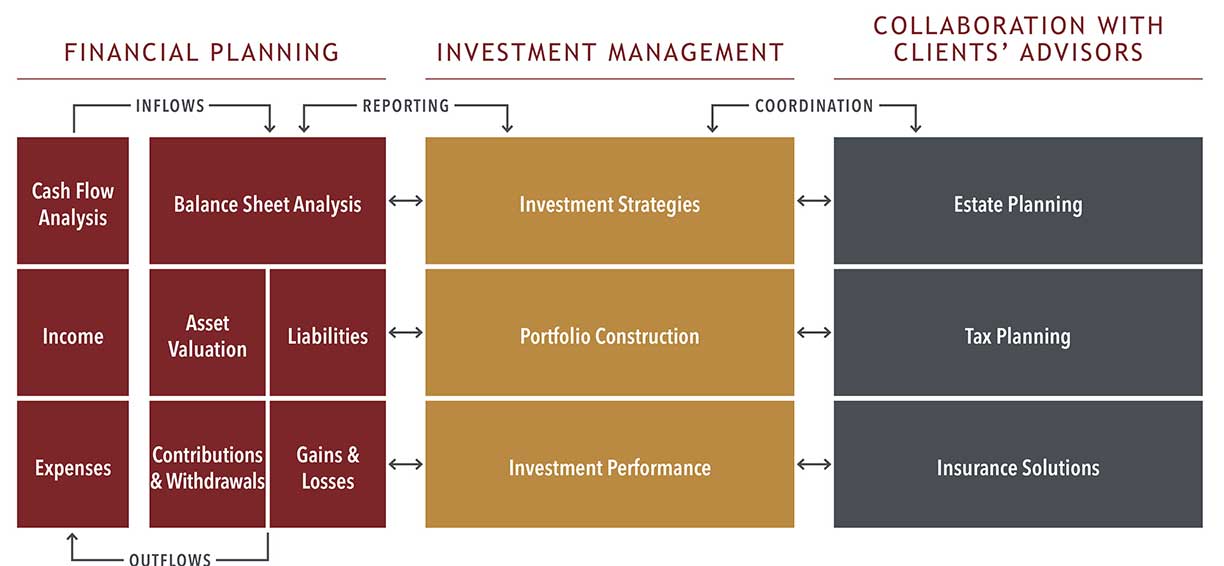 Investment management that starts and ends with you. Yes, you.
We start our conversations by listening. We seek to understand your goals, needs, concerns, and family nuances. Guided by who you are and what is important to you, we develop an investment strategy that aligns with your lifestyle, objectives, and personality. We maintain a long-term perspective and patiently build our clients' wealth over time while managing risk.
PORTFOLIO CONSTRUCTION
We construct globally-diversified investment portfolios tailored to your objectives, time horizon, and risk tolerance that seek to balance expected returns, risk, and overall portfolio expenses. Starting with strategic allocation targets to equity, fixed income, cash and alternatives, we implement the strategy through a combination of individual securities, actively managed mutual funds, and passive (index) funds and ETFs.
PORTFOLIO MANAGEMENT
Needs and cash flows change over time. To stay in line with our mutually agreed investment strategy, we regularly monitor and periodically rebalance your portfolio. Ongoing portfolio maintenance also includes trading for model changes, changes in client circumstances, contributions or withdrawals, and tax-loss harvesting. We provide ongoing reporting and maintain regularly scheduled communications.
EXPERIENCE AND EXPERTISE
Our investment team is comprised of analysts who hold the Chartered Financial Analyst® designation, the global professional investment credential. The team's members are critical thinkers who abide by the highest standards of ethics and integrity. Their collective experience and proven expertise warrant the confidence our clients place in their investment decisions.
TRUST AND ESTATE ADMINISTRATION
Managing wealth for your lifetime and beyond.
Having administered trusts and probated estates for families for nearly 50 years, we have deep expertise in stewarding assets effectively across generational lines. Stepping into the shoes of our clients to carry out their intentions, we invest trust assets prudently and exercise our best judgment on behalf of beneficiaries.
CONTINUITY OF THE TRUST TEAM
The principals of our firm accept fiduciary appointments to serve as trustee, co-trustee, or successor trustee of trusts, as well as executor of wills to probate estate assets. Since 1970, the members of our firm have faithfully administered hundreds of trusts and estates. We are highly accessible and responsive. Continuity in managing trusts is provided through successorship in the office of Chief Trust Officer.
INTERGENERATIONAL ADVISORS
We develop and maintain long-term relationships with grantors of trusts and their beneficiaries. We personally know and understand our clients' goals and the nuances of the family's dynamics. It is common for us to manage the investment assets of clients during their lifetimes, then carry on professional management of the assets across successive generations.
TRUST ACCOUNTING AND REPORTING, DISTRIBUTIONS, AND TAX FILING
Our seasoned administrative team handles the day-to-day tasks of paying bills, processing distributions, and coordinating the preparation and filing of tax returns by an independent CPA. We track and report on principal, income, distributions, and expenditures by the trust. Distribution requests are typically handled same or next day.
PRUDENT INVESTMENT MANAGEMENT
Trustees are held to the highest standard of care in investing trust assets. This responsibility is assigned to our investment team comprised of analysts who hold the Chartered Financial Analyst® designation and provide expert investment management of trust assets.
HELPING FAMILY MEMBERS NAMED AS TRUSTEE
Sometimes a trust names a family member or nonprofessional as the trustee. We know it's a lot to manage – and we can help. We are happy to serve as co-trustee and fiduciary to handle the investment responsibilities and do the heavy lifting of trust administration.
We've got your back when it comes to your daily finances.
Day-to-day finances can be time-consuming and sometimes difficult to manage. This becomes even more challenging when you're traveling for extended periods, as you age, when you own privately held assets, or when you find yourself temporarily or permanently unable to manage your checkbook. That's where we come in.
BILL PAY
We take care of clients' day-to-day finances when they no longer can, paying household bills ranging from utilities, insurance, and taxes to caregivers and service providers. We document every invoice and payment and report regularly to clients and any designated family members or representatives. All bill pay accounts are subject to an annual surprise examination by an independent auditor.
RECORDKEEPING FOR FAMILY ENTERPRISES AND PRIVATELY-HELD ASSETS
If you own interests in limited partnerships which receive and distribute income, we'll provide recordkeeping of the inflows and outflows. For intrafamily loans, we will track the principal and interest payments. We also will track valuations and cash flows for privately held assets such as real estate, life insurance policies and other private investments.
MANAGER RESPONSIBILITY FOR LLCS
Our firm's principals also serve, where requested, as the manager of clients' LLCs. Not unlike serving as a trustee, we manage the assets of the LLC and handle distributions, recordkeeping, and reporting as well as coordinating the preparation and filing of tax returns by an independent CPA.
FAMILY CFO
With ultra-high net worth also comes complex financial holdings and recordkeeping. Working with your CPA and attorneys, will maintain the family balance sheet and cash flow statement and assist with private investments, asset protection, estate planning and tax optimization strategies and opportunities.